Islamic Foundation published a recruitment circular for a total of 1231  posts in 21 categories on 6 February 2023. According to the recruitment circular, interested and qualified persons are asked to apply for the vacant posts. You can apply completely online from 23 February 2023. Candidates from all districts and divisions of Bangladesh are eligible to apply. The applicant candidate's age should be between 18-30 years as on 17 February 2023.
To promote and disseminate the values and ideals of Islam, to bring the majority of the people of Bangladesh under the banner of Islam, believing in Almighty Allah. Islamic Foundation is an autonomous organization under the Ministry of Religious Affairs. The government of Bangladesh, its own sources, aid, grants received from foreign countries, and funds from pre-approved organizations approved by the government are the sources of finance of the Islamic Foundation. Management A Board of Governors consisting of 17 members provides overall guidance in overseeing the activities of the Foundation.
Islamic Foundation Job Circular
| | |
| --- | --- |
| Application Starts | 15 January 2023 |
| Application Last Date | 23 February 2023 |
| Job Type | Full Time |
| Educational Qualification | S.S.C / H.S.C / Honors |
| Gender | Only Male |
| Jop Place | Anywhere |
| Application Media | Online Application |
| Website | islamicfoundation.gov.bd |
| Application Fee | 500, 300, 200 Taka |
Islamic Foundation Job Circular Details
Post Name: Teacher
Vacancies: 138
Educational Qualification: Graduation from Any Discipline
Pay Scale: 12,500 taka
Post Name: Assistant Cum Sweeper
Vacancies:1010
Educational Qualification: At Least SSC Pass
Pay Scale: 8,000 taka
Post Name: Deputy Director
Vacancies: 12
Educational Qualification: Post Graduate Degree.
Pay Scale: 35,500-67,010/-
Post Name: Senior Program Officer (Islamic Mission)
Vacancies: 05
Educational Qualification: Post Graduate Degree.
Pay Scale: 29,000-63,410/-
Post Name: Medical Officer (Islamic Mission)
Vacancies: 07
Educational Qualification: Post Graduate Degree.
Pay Scale: 29,000-63,410/-
Post Name: Assistant Director
Vacancy: 07 posts
Educational Qualification: Post Graduate Degree.
Pay Scale: 22,000-53,060/-
Post Name: Health Trainer cum Medical Officer (Imam Trainer Academy)
Post Name: 14
Educational Qualification: Post Graduate Degree.
Pay Scale: 22,000-53,060/-
Post Name: Program Officer (Islamic Mission)
Post Name: 04
Educational Qualification: Post Graduate Degree.
Pay Scale: 22,000-53,060/-
BCS (Tax) Academy Job Circular Online Application Process
Interested candidates can fill out and submit the application form at http://islamicfoundation.teletalk.com.bd website.
You can see a Web-Based Recruitment System interface by entering the link. From there click on Application Form (Click here to Apply Online).
You can see all the posts by clicking on the application form. Click on the position of your choice.
Clicking on your desired post will show a notification of All jobs Premium Member. Select Yes if you are a premium member and No if not.
You can view the application form after NEXT with Yes or No. You can see your post below the application form.
Departmental Status Information in Govt. Start entering your information by selecting Employee. Write your name, your father's name, and your mother's name in English and Bengali.
Islamic foundation Teletalk Application Enter your date of birth in the application form. Input your National ID number to select Nationality, Religion, Gender
If you do not have a National Identity Card, enter your birth registration number from the Birth Registration option with Yes.
If you have a passport, enter the passport ID number with yes. Marital status, your mobile number, again your same mobile number email and proceed to the next step.
According to the Islamic foundation Job Circular, if you have any quota holder, select it. Then go to the address.
Enter your addresses carefully in the place of your current and permanent address.
Select your degree of study and enter all the details correctly. Fill in the experience option by ticking if required.
Islamic foundation Job Circular application conditions
All recruitment rules/orders/rules mentioned in Islamic Foundation Job Circular and any subsequent amendments will be followed.
Candidates working in Government, Semi-Government, and Autonomous Organizations must apply with permission from appropriate authorities.
Job candidates should tick the Departmental Candidate box while filling out the application form subject to fulfilling all the conditions. This condition does not apply to others.
All the job candidates have to submit an original copy of the objection letter issued by the appointing authority at the time of the oral test. No advance copy will be accepted in this case.
Written and Oral tests will be conducted for all posts in Islamic Foundation. For some posts, candidates who have cleared the written and practical will be eligible for the oral test.
If any information provided or documents submitted by the candidate is found to be fake, falsified or inconsistency/inconsistency with the minimum conditions required in the notification or found to be false or if any of the documents submitted by the candidate are fake or fake or fraudulent in the examination, the candidature of the concerned candidate will be canceled and appropriate legal action will be taken against him.
The appointing authority reserves the right to cancel the candidature of any candidate who passes the examination during the examination or at any time thereafter if wrong information/fake documents are produced.
If a candidate is not a citizen of Bangladesh or has married or committed to marrying a person who is not a citizen of Bangladesh or has been convicted by a criminal court on charges of moral turpitude, he will not be considered eligible to apply.
No allowance will be given for participation in the written, oral, and practical examination of Islamic Foundation Recruitment.
Islamic Foundation Authority reserves the right to increase or decrease the number of posts and cancel notifications or make any changes regarding recruitment as per rules.
Documents to be submitted during the Islamic Foundation Viva Examination
Original copies of all relevant educational qualification certificates must be produced at the time of the Islamic Foundation Oral Examination
A set of attested photocopies of all certificates and admit cards submitted in the application should be submitted along with the filled BCS Tax Academy Recruitment Application Form.
Certificate issued by Union Parishad/Municipality/City Corporation as proof of permanent residency in the district.
If the applicant is the son-daughter or son-daughter of the freedom fighter/martyr freedom fighter (grandson-daughter) in support of the said statement, the applicant should mention the Gazette/Indian List/Red Muktibarta No./Periodical Certificate Number and Date/Bamus Certificate Number and Date) The certificate issued by the concerned Union Parishad Chairman / City Corporation Ward Councilor / Municipal Mayor should be presented.
In the case of Physically Handicapped, Ethnic Minorities, and Ansar and Village Defense Member Candidates, a photocopy of the Certificate issued by the Competent Authority as per the latest policy should be submitted.
Candidates working in Government/Semi-Government/Autonomous/Approved Private Institutions should submit the original copy of the No Objection Letter/Waiver letter issued by the appointing authority.
Photo and Signature Tips for Islamic Foundation Jobs Online
The Islamic Foundation Teletalk online application form requires a signature. Scanned and uploaded to the specified location. The signature size will be (length 300 × width 80) pixels. Apart from this, the application form will require a recent photo taken. The image size will be (Length 300 × Width 300) pixels. Scan the image and upload it to the designated location. Note that the maximum size of the photo should be 100 kilobytes and the maximum size of the signature should be 60 kilobytes.
Islamic Foundation Job Circular 2023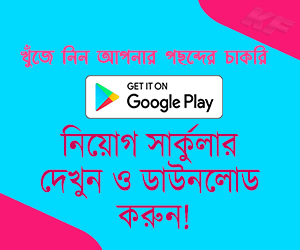 KFPlanet ফেসবুক পেজ   📰 Gᴏᴏɢʟᴇ Nᴇᴡs ➣টেলিগ্রাম চ্যানেল ফলো করুন 👉 Youtube চ্যানেল সাবস্ক্রাইব করুন। যে কোন সার্কুলার ডাউনলোড করতে আমাদের Mobile APP ইন্সটল করুন।