Classes will be on Friday only. In addition to the job, you can do the course. Department Of Computer Science And Engineering under Jahangirnagar University published MSC in CSE Admission Circular 2022. You will find all the admission information on our website. Thank you for staying with our KFPlanet Bangla version
Program Name: Master of Science MSC in Computer Science
Application Deadline: 01 January 2022
Admission Test: 13 January 2022
Class Starts: 10 February 2022
Eligibility of application: Applicants must satisfy any one of the following criteria:
 BSc (Engineering) in any discipline from any recognized University
4-year BSc (or 3-year Honors + |-year MSc) in CS/CSE/IT/EEP/ECE/ETE or equivalent
4-year BSc (or 3-year Honors + 1-year MSc) in Physics/Mathematics/Statistics/Geological Sciences/Chemistry/Environmental Sciences
4-year BSc (or 3-year Honors + 1-year MSc) in any subject with at least 1-year PGD in CSE/IT, or equivalent
NB. Candidates with a third Division/Class or CGPA below 2.50 at any level of their academic career are not
eligible to apply.
Jahangirnagar University MSC in CSE Admission Circular 2022
Application Process: One can follow either option 1 or option 2 to complete the application process.
Option 1: Online Application Process
Pay off Tk 1000/-as application processing fee from your/agent's Dutch Bangla Mobile Banking Account to CSE, JU biller code 345. You Should Vi) Enter your/agent's mobile banking PIN
follow the below steps:
Dial*322#
From the menu, select 1 forPayment
select 1 for Bill Pay
Enter 348 as Biller ID
Enter Your Cell phone number as the bill number
Enter 1000 for the amount
Enter your pin
Collect Txnid from the return message
Option 2: Offline Application Process
Each applicant must pay BDT 1000/- (in cash) to the department office during the working hour to complete
application process.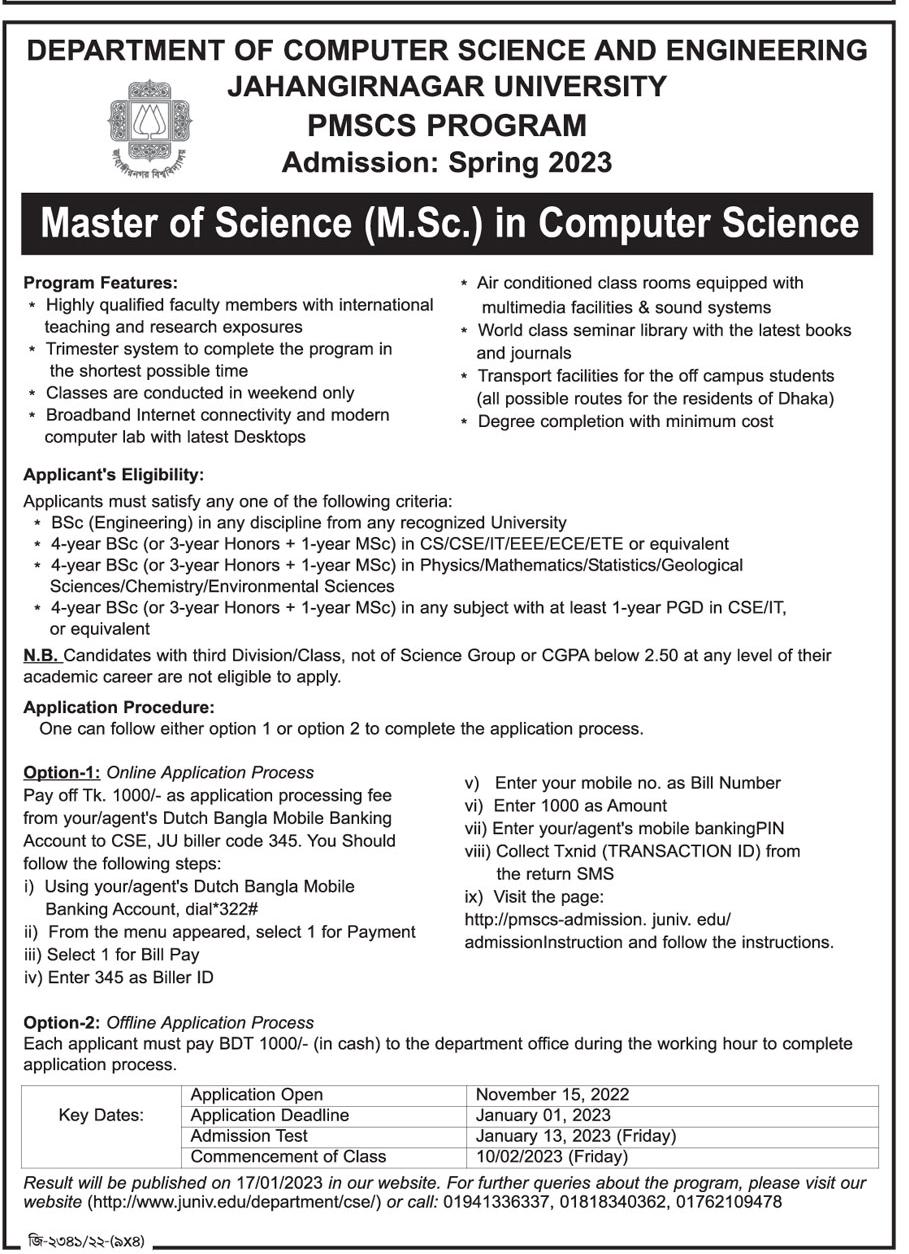 You can visit our Bengali site